Please review this page for updates regarding spa policies and services.  
Updates to Spa Services (January 12th, 2022)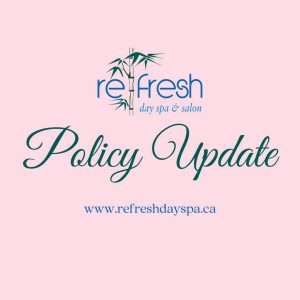 Refresh Day Spa remains OPEN for esthetic and massage therapy services during the modified step 2 of the Ontario reopening plan.  All services will continue to operate with the exception of: upper lip waxing & nose waxing.  We will continue to utilize our spa masks for facial services (please see "Facials & Other Services during COVID-19" heading below for more information).
Capacity limits have been set for all personal care settings at 50%.  In consideration of this, our waiting areas will be closed.  We ask that clients arrive at their exact appointment time and likewise be prepared to exit the spa immediately following the end of their appointment.  In addition to this, please ensure that you arrive to your spa appointments alone; guests cannot be accommodated at this time.  We appreciate your understanding and compliance with these new provisions.  This will allow us to continue to accommodate all pre-scheduled appointments with as little disruption as possible.
If you would like to utilize our veneers services (gel polish cured under a UV light that is dry immediately following application), please let our reception team know at the time of booking.
In addition we have implemented a 10 day screening policy for all guests. If you have tested positive for COVID or you have had contact with someone who has tested positive or is sick, we ask you to wait 10 days before coming in for an appointment at Refresh Day Spa.  We are in very close proximity to clients and are at high-risk.  We appreciate your understanding in keeping our staff and clients safe.
COVID-19: Safety & Policies
Refresh Day Spa is committed to complying with all safety measures outlined by the Windsor-Essex County Health Unit as well as other governing bodies.  We have implemented new measures to continue to provide a safe environment for all enterers to our facility.  Some of these measures include the following:
Health Screening for all clients and staff entering the spa
Enhanced cleaning protocols, using appropriate hospital grade disinfectants
Physical distancing where possible throughout the spa
COVID rapid testing for staff in aims at tracing asymptomatic COVID cases
Additional PPE usage for staff during higher-risk services
In order to strengthen the effectiveness of these safety measures, we ask all enterer's to the spa to do the following:

Ensure you are wearing an appropriate face covering (covers entire nose & mouth; no bandanas or other chin-exposing masks).  Masks must be worn during all treatments (with the exception to facial waxing where they will be temporarily removed).
Please do not enter our facility if you are not feeling well, you have had contact with someone who is sick in the past 10 days, if you have been told to isolate or if you have tested positive for COVID-19 in the past 10 days.  If you have an appointment, please contact us to reschedule should any of these statements apply to you; we have waived our cancellation fee/policy during this time.
We will require first name, last name, phone number and e-mail address (if applicable) for all guests booking appointments
We ask that you do not arrive early for your appointment, please wait in your vehicle until your scheduled appointment time
Should you have any questions or concerns related to your appointment, please contact us at 519-972-7329 or by email at info@refreshdayspa.ca
Facials & Other Services During COVID-19
Due to the current state of the Windsor-Essex area, cold and flu season as well as the increase of COVID-19 variants, the use of our 'spa masks' will be implemented during all facial treatments. This mask is adhesive, has stretch to create a custom fit for every wearer and covers a much smaller surface area than a traditional face mask.
The spa mask is also made with 100% breathable cotton, is latex free and water resistant. The use of our spa masks will simultaneously allow you to feel relaxed and comfortable during your services and will also contribute to a safe environment for all enterers to our facility. We appreciate your understanding in this mandatory implementation and we look forward to seeing you for your next treatment.
*If you are claustrophobic or are allergic to adhesives, the spa mask may not be for you*
Updates to Massage Therapy & Direct Billing
We are currently transitioning to new billing platforms with Canada Life & Sunlife.  During this transition, we may not be able to submit your claim for payment. In these circumstances, clients will be required to pay for their massage and an official RMT receipt will be provided along with proof of payment.
It is suggested that clients contact their insurance company before their appointment to see if additional information/verification is needed.  It is also suggested that members set up their online profiles/direct deposit information in the event they must pay for their claim (this will expedite the process to receive reimbursement of your claim).
We thank you for your patience and understanding during this transition period.